Eye Care for Pets
Dogs and cats are often coming into contact with many potential irritants to the eyes ranging from pollens in the air to the sharp tip of a foxtail.
Most eye irritations are not serious and go away on their own within a few days.
While there are some cases of eye irritation which are easy to treat at home, it is often impossible to tell which eye irritations are minor and which are more serious.
I therefore recommend that you call your veterinarian whenever you notice any problems with the eyes.
The signs of eye irritation include red itchy eyes, a yellow or green discharge in the corner of the eyes, continually watering eyes, swollen skin around the eyes and squinting and/or reluctance to open the eye.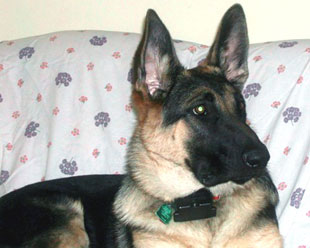 Eye Care for Pets
By Dr. Michael Dym, VMD
To clean crusts and secretions from the eye and eyelids, make up a soothing, non-irritating salt solution by mixing 1/4 teaspoon of sea salt into a cup of distilled or filtered water.
Additionally, 5-10 drops of the herb eyebright (Euphrasia officinalis) can be added to this solution. This mild herb is an anti-oxidant and anti-inflammatory that nourishes and eases irritated eyes. A few drops of this solution can be instilled directly into the eye twice daily by using a dropper, being careful not to touch the eye.
Also, a well respected homeopathic solution is to instill directly into the eye one drop of one of the following soothing treatments: almond oil (for mild irritation), castor oil (for more irritated and inflamed eyes) or cod liver oil (for eyes that are dry or ulcerated).
Finally, Eye Clear is also an excellent solution for eye care< and is available from 1-800-PetMeds. For more information on this subject, contact your veterinarian.
Article reprinted with permission of:
http://www.1800petmeds.com/
America's Largest Pet Pharmacy



Return from Eye Care for Pets to First Aid Kits


"I've seen a look in dogs' eyes, a quickly vanishing look of amazed contempt, and I am convinced that basically dogs think humans are nuts." - John Steinbeck
Sign up for promotions, news, discounts, and the chance to win prizes for you and your German Shepherd