The Story of GSD Lolly
GSD Lolly, "I will NOT Get out of the truck until you take me to the dump."
I might just sit here all morning. You see, I know I have only lived here for about 8 months now, but, I know the routine. I will just be here sitting, ignoring you. Until you take me for the ride.
Yep, I'll get my way! Yeah, and so what I'm 12? Twelve years young! I still have my good looks. Admit it buddy, the first time we met, you took me home!! You were like putty in my hand.
And really... the pretty girl thing is unnecessary. Lady Lolly Diva is my name.. and men are my game.
Lolly, 12 years old, dropped of by her former owner to a local vets office to be put to sleep. Said she was a lazy dog. They had just gotten a new puppy. Black teeth, no muscle tone, typical stomach issues. Fat and sad.
Yesterday, I brought her back to the Vet that saved her 8 months ago from the gas chamber. The girls in the office looked at me like I had 3 heads, it took about 4 minutes for two people to realize....she was the same dog... then came.... OH MY GOD! They couldn't believe it!
Regards, -Bill and Lolly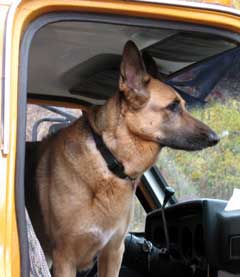 Return from GSD Lolly to German Shepherd puppy stories


"I can't think of anything that brings me closer to tears than when my old dog -- completely exhausted after a hard day in the field -- limps away from her nice spot in front of the fire and comes over to where I'm sitting and puts her head in my lap, a paw over my knee, and closes her eyes and goes back to sleep. I don't know what I've done to deserve that kind of friend."-- Gene Hill
Sign up for promotions, news, discounts, and the chance to win prizes for you and your German Shepherd