The Story of GSD Bailey
Here is the story of white GSD Bailey - a rescued German Shepherd, sent in by J. and H. Bass. I hope you all enjoy reading it.
My name is Bailey and I will be 11 years old on February 21, 2009. I am a White German Shepherd male. The first 5 years of my life was with another family who gave me up to the Humane Society for adoption. I don't know why since I am very well mannered and a very sweet dog.
My story begins here. My forever Mom & Dad came in after I was here for two days and they fell in love with me. I took a little longer since I was depressed, but I soon realized that this was the best thing that ever happened to me. I love them very much now and will always be by their side. I have been with my forever family for 6 years.
During the first year with my new family, I developed a skin condition know as Sebaceous Adenitis, which unfortunately will be with me for the rest of my life. To keep me healthy, this includes frequent anti-seborrhea shampoos, baby oil treatments for my skin and proper diet. My Mom gives me a bath once a week, and my skin condition is under control.
---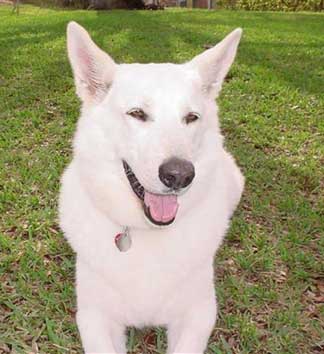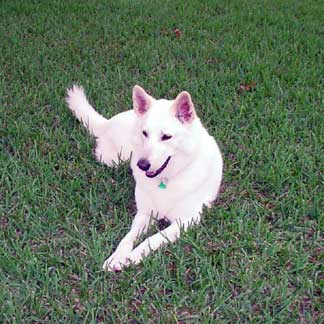 In January, 2006, I had to have a gall bladder operation. My Mom and Dad saw I was not feeling very well and took me to the hospital. After a few tests, I needed the operation. Thank goodness I came through very well with the help of my family and doctors. I am fully recovered now and can eat anything, within reason.
I am sending you two pictures of me and you can see that I am very Happy. My Mom and Dad say that I am a gift from Heaven.
I realize they have a lot of friends, I only have one, them. I depend upon them for my life and they are doing a good job keeping me alive. To them, I owe my life, and I will lay down my life for them.
Thank you,
Bailey
Return from GSD Bailey to German Shepherd Rescue

"He will hold thee, when his passion shall have spent its novel force, Something better than his dog, a little dearer than his horse." -- Alfred Lord Tennyson
Sign up for promotions, news, discounts, and the chance to win prizes for you and your German Shepherd