German Shepherd Gunny
Enjoy the story of German Shepherd Gunny - the "puppy who could" sent in by one of our readers, Erin. See if any of this sounds familiar to you as a German shepherd owner.
Pictured is Gunny a 9 month old Red Sable Male, he is an extreme character, he's one of the sweetest dogs I've ever known.
If you let him he'll crawl in your lap and lay there with you all day long. He's a hefty 85+ lbs and still growing.
His best friend besides his people is Haylee our chocolate lab, they are almost inseparable and when separated they whine and cry till they are brought back together.
His favorite chew toy is our orange tabby cat Milo and his other obsession is stalking every step of our white cat Shiloh.
He loves water and if you don't close the door to the bathroom he'll climb in the shower with you. He adores playing fetch almost as much as Haylee, he'll set the toy next to you and if you don't play with him or look at the toy he'll pick it up and toss it at you with his head until you play with him.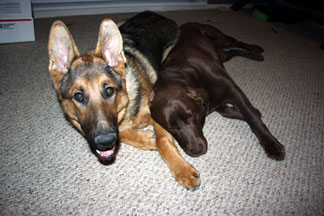 Total German Shepherd:
Hi Erin,
Your German Shepherd puppy Gunny sounds like a typical GSD male puppy. I am so glad he gets along well with your other dog but bless the cats poor little heart. Hopefully with time their relationship will improve too.
If you have the chance enroll him in a puppy class along with your other dog too and it can make a huge difference in their behavior if you really, really work at it. And those growing boys can be quite a hand full as they are maturing!
Return from The Story of German Shepherd Gunny to Sable German Shepherds


"J'embrasse mon chien sur la bouche!" (I kiss my dog on the mouth.) - Unknown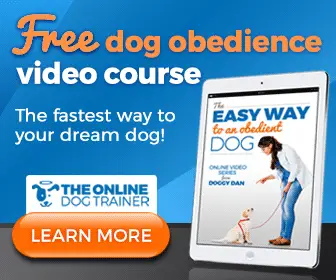 Sign up for promotions, news, discounts, and the chance to win prizes for you and your German Shepherd