German Shepherd Saddle back's: Black & Tan, Black & Red GSD's

German Shepherd saddle backs. Ask almost anyone what color a German Shepherd is and they'll describe a saddle back GSD with a black mask in some combination of black and tan or black and red.
While there are a number of German shepherd coat colors this is the combination that is most often considered the "classic" look of the German Shepherd. Most German Shepherds fall somewhere in between these extremes of coat colors and coat patterns - black and tan or black and red.
Any GSD coat color shade is acceptable but the richer hues are always preferred in the German Shepherd Dog. Pale washed out colors, shades of blues and livers are considered serious faults in the GSD breed.
The amount of tan (interpreted as any shade of brown, from fawn, chestnut or silver to deep darker hues) or red (light red to mahogany) markings can also vary quite a bit from black and tan German Shepherd to black and tan (or black and red) German Shepherd.
Some GSD's may have very few markings with a lot of dark color as in the case of a bi-color saddle back German Shepherd (consider a "blanket" as opposed to a "saddle") while other GSD's may display the more traditional saddle back coloration with a lot of tan, red or silver and much less black on the body with a dark mask.When born, a saddleback black and tan (or red) GSD puppy is much darker than they will be at adulthood. Oftentimes they may even be so dark as to appear to be solid black at birth - but this is not the case. When the German Shepherd puppy later dries off it's real marking colors will really be evident - especially around its anus and on the hairs on the puppies feet.
---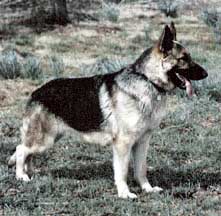 Below find a few pictures representative of the traditional saddleback German Shepherd Dog and their coat colors and markings - of the black and tan GSD, black and red GSD and bi-color saddle back German Shepherds.

---
Bi-color German Shepherd Saddle back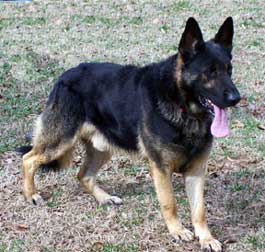 Black and Red German Shepherd Saddle back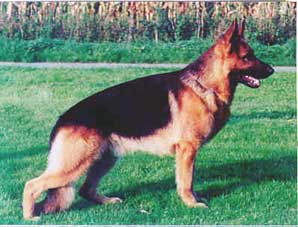 Black and Tan German Shepherd Saddle back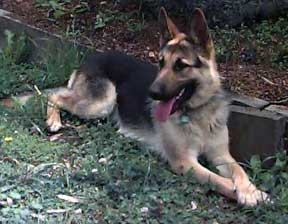 Return from German Shepherd saddle back to white German Shepherds 


"A barking dog is often more useful than a sleeping lion." - Washington Irving
Sign up for promotions, news, discounts, and the chance to win prizes for you and your German Shepherd