Horand - the First German Shepherd Dog
Did you know that a dog called Horand was the father of the German Shepherd Dog breed? Every dog breed has to start somewhere right? There has to be at least one dog to start any new dog breed, that's a given.
And in our case, for the German Shepherd dog breed, that very first registered German Shepherd Dog ever, was a dog that just happened to be found at a chance encounter over 100 years ago. As it turned out fate played a big hand in the starting of our beloved dog breed.
Why? Because the timing could not have been better - this chance meeting between a dog formally called Hektor and a man named Max von Stephanitz was the beginning of a love affair for many that has lasted for over 100 years now.
As it turns out Max, who happened to have a great interest in canine anatomy, just happened to come across an exceptional dog at a dog show he just happened to be attending with a friend. After talking with the owner more about this one particular dog, Hektor, Max, happened to find out more information about the dog and was very impressed with many of the innate qualities that this dog had. Both physically and mentally.
According to the owner of the dog at that time, Max found out that this particular animal had a great interest in working and had been herding since a very young age. And it was just these qualities plus the confidence and the overall look of the dog that impressed von Stephanitz so much that he decided to buy the dog right then and there.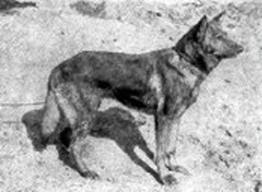 So after some discussion with the owner Max eventually worked out a deal and bought Hector for a great sum (for that particular time) of money - already with an idea in his mind of exactly how he would start a new dog breed - a breed of working dog that could do any job put before it. A dog that was very easy to train, that was super intelligent, and was built for working long periods of time, this was the dog breed that von Stephanitz had in mind. And Hector would be the father of breed.
As it turns out von Stephanitz already owned several bitches, female dogs, at that time, several of which he would later breed to his new dog, now called Horand. So what happened next? Well, as we already said, right after he brought this new acquisition home, he re-named Hector with a new name – he was now called Horand von Grafrath, or Horand for short.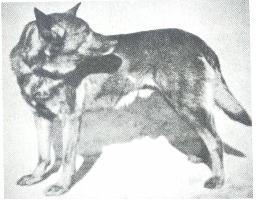 Next, within a few weeks Max of getting this new dog, he and several of his friends created the SV (now the national German Shepherd Club of Germany) and started working on organizing the first dog championships all around an idea that:
"an attractive morphology is desirable, but must not put into question the utilitarian aptitude of the breed."
He also launched the stud book (the breed registry book) for his newly emerging dog breed, the GSD. Pretty impressive if you ask me, and a lot of work in a short amount of time. But thank goodness von Stephanitz did it, or we would not have the German Shepherd dog today.
So if it hadn't been for a chance meeting between a dog named Hektor, later called Horand, and the Calvary officer named von Stephanitz, chances are high that the German Shepherd breed would not be around today. So I would like to take this opportunity to celebrate a dog called Horand and thank him and Max von Stephanitz so much for all that they did in creating the dog breed that I love so much - the German Shepherd dog.

---
In fact, this is what von Stephanitz had to say about Horand in his own words:
"Horand embodied for the enthusiasts of that time the fulfillment of their fondest dreams.  He was big for that period, between 24" and 24 1/2", even for the present day a good medium size, with powerful frame, beautiful lines, and a nobly formed head.  Clean and sinewy in build, the entire dog was one live wire. 
His character was on a par with his exterior qualities; marvelous in his obedient fidelity to his master, and above all else, the straightforward nature of a gentleman with a boundless zest for living.  Although untrained in puppy hood, nevertheless obedient to the slightest nod when at this master's side; but when left to himself, the maddest rascal, the wildest ruffian and incorrigible provoker of strife. 
Never idle, always on the go; well disposed to harmless people, but no cringer, mad about children and always in love.  What could not have been the accomplishments of such a dog if we, at that time, had only had military or police service training?  His faults were the failings of his upbringing, never of his stock.  He suffered from a superfluity of unemployed energy, for he was in Heaven when someone was occupied with him and was then the most tractable of dog."
~ Captain Max von Stephanitz



Return from Horand to German Shepherd Dog History


"an attractive morphology is desirable, but must not put into question the utilitarian aptitude of the breed." - Max von Stephanitz
Sign up for promotions, news, discounts, and the chance to win prizes for you and your German Shepherd