Kindergarten Obedience - An Important 1st Step in Training Your German Shepherd Puppy.
Kindergarten Obedience? "What's that", you might ask? When my German Shepherd puppy is about two months old (or younger), I start it in early dog training right away. I work with bait and I teach the puppy: Sit, Down, Stand, Come, Out, No, and to walk at my left side on a leash.
Very, very important fact: In kindergarten obedience classes it is important to remember that THERE ARE NO CORRECTIONS! There is a food reward for responding to a command, but never a correction.
To give you an example, I once trained an adult dog that took close to an hour to "Down" on its own. I taught my two month old German Shepherd puppy to "Down" with a hand signal in just about five minutes or less.
I do not use food, all the time, to train a dog that is older than four months old. It is physically easier to teach these commands to a puppy. Whenever I start Novice Obedience at six months of age or later, I am weeks ahead having taught kindergarten obedience to the puppy first.
---
Basic Principles of Obedience
(or any) GSD Dog Training.
1. Be consistent! Use the same command for each dog training exercise - be specific and do not alternate terms between commands for any exercise (ex. Down, Lie Down, Get Down, Drop, etc.) Pick only one name for the command and stick with it!
2. During dog training use short commands that can't be confused with others. Remember to use a pleasant conversational tone of voice at all times while training is going on too.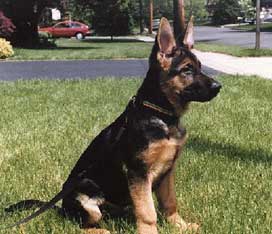 3. Never underestimate the power of praise - award it to your German Shepherd puppy liberally and very, very often! Do not hit your dog, but if discipline is necessary, shake it by the scruff much as a bitch would do when reprimanding her own puppies.
4. Keep dog training session lengths short.
Do not train so long that the German Shepherd puppy becomes bored. Finish with the puppy performing at his peak level.
5. Always refer to your German Shepherd by name throughout dog training - not as "boy", "sweetie", "honey" etc.
6. Train a little bit each and every day. Five minutes is enough for any young German Shepherd puppy. Dog training times may increase as your GSD puppy matures.


Return from Kindergarten Obedience to Fun and Games


"My dog is worried about the economy because Alpo is up to 99 cents a can. That's almost $7.00 in dog money." - Joe Weinstein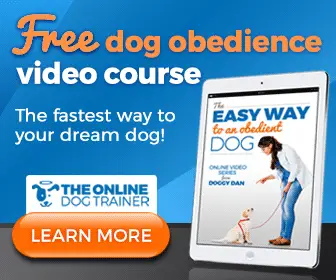 Sign up for promotions, news, discounts, and the chance to win prizes for you and your German Shepherd