a gsd who was the same colour as a golden labador
by vincent mullins
(derry northern ireland)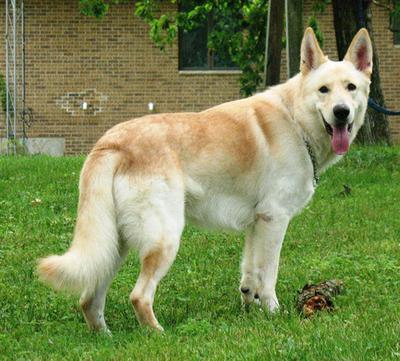 example of a beautiful white German Shepherd
hi,in london uk i had a white gsd female called cassie from a puppy she lived 13 years and 6 months.


a superb family pet who played with my toddler neice who when out with the wee girl watched her continously only children allowed to approach her any unknown adult even any other dog ,simple not allowed access ,my sister often walked with my neice in her pushchair and dog and trusted cassie so much she could go into shops tell her to sit and wait also told her watch her daughter not even securing her lead.
an awful food theif cream gateaux her favorite which never caused illness. she played with our cat and even her kittens taken them in her mouth every hour for a tour of the garden,our yorkie would deliberately in the local park find the largest dog
s
to nip yes he knew who would fight his corner.
anyone who states white gsd are not true to their historic breed routes are complete idiots.
also my parent's if the house was empty would leave the house back door wedged open,nobody unknown could get passed her.
finally on 2 occassions two street assaults took place on my self,no chance they lost. sorely missed.