A solid black puppy out of two Snow White German Shepherd Parents..
by jane
(lake of the ozarks missouri)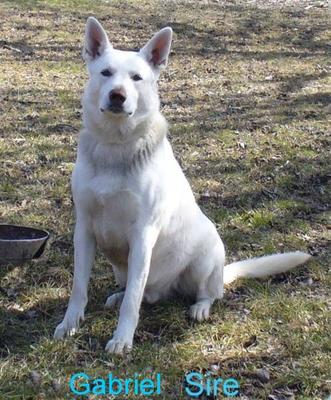 White German Shepherd
37 years ago I rescued my first white German Shepherd, my daughter Cassi was a year old. Traditional breeders destroyed white German Shepherds when they were born at that time due to lack of information and following Hitlers bad breeding practices,


I cried until the lady let me buy that puppy , she was going to have it euthanized by her vet. We took it home - it was the sweetest little teddy bear I had ever seen, I never had the pleasure to own one until that day, we have had them in our family on and off ever since and raise a few litters a year .
This just puts me in Awe of the miracle of this breed. In all of my life we have never had a black or black and silver out of two white parents, just never happened until this litter. I can not hardly believe it, its awesome.
I am elated, we broke the record of White German Shepherd breeding , now I know how shocked the parents felt of the puppy I purchased so many years ago out of two black and tan parents who never ever had a white puppy, only they were sadly disappointing and I am elated.
We bred her only once to Gabriel the 3rd. We lock our females up in a kennel and no other dogs can get to her. This is so impressive I am almost in tears.. visit our shepherds at Masterscreekappaloosa.com home of the rare Snow White German Shepherd.
Total German Shepherd
: Hey Jane,
Thanks so much for sharing your story with us. I have never heard of that happening before but nature is amazing and wonderful surprises happen all the time so who is to say that that's not possible. After all, they just proved to us that it IS a possibility.
Boy is that little black baby going to get a lot of attention!
Both the white and black factor (color) in the German Shepherd is a recessive gene so if a pair that both had the recessive gene for white/black or coated, had enough puppies, it is definitely a possibility that sooner or later you might see a solid white puppy, a solid black or even a coated puppy.
Nature is awesome that way! And now you know for future reference that both these dogs carry the black factor gene too! Very cool. And thanks again for letting us in on your experience! Great pictures of all the puppies - please send us some more in later on with an update on how they're doing!