Acacia and Freya Vom Schlossfelsen
by Sandy Robinson
(Milliken, CO)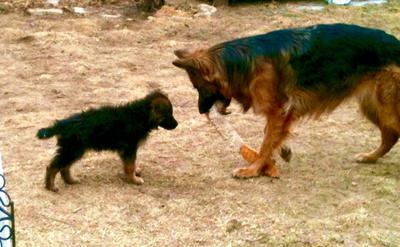 Want to share my toys ??
Acacia, we call her Cacia (pronounced K-Sha) was happy to welcome her Baby sister, Freya, to her new home. Of course what better way to do that then by teaching her to play tug. I think this is the sweetest pic I have ever taken.


Cacia and Freya are 1/2 sisters. Cacia was almost 2 in this pic and Freya was 10 weeks. They are my sweet girls.
Freya is almost 2 now and that pic was the begging of those two playing hard every day.
They would love to have a new ball to chase around.