Allow me to introduce to you our German Shepherd Penny
by Christopher and Barbara Day
(Ohio, USA)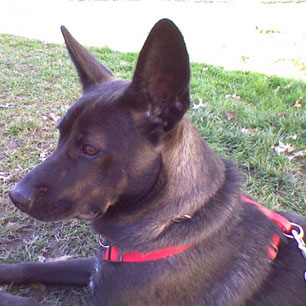 Hello: Allow me to introduce to you,the awesome Penny.. She is eight and a half months young,full of life and everything a German Shepherd is supposed to be.


My wife and I truly believe she is a gift from the Lord above,an absolute angel.
She was six months when we found her on the Tuscarawas county kennel website.
When we called to see about adopting her,they said she was going to be put down, and that the Tuscarawas humaine shelter took her in.
We contacted them and we adopted her on the spot.
We have a female Goldendoodle the same age,and wanted to get her a playmate.
Enter Penny,at first they did the usual feeling each other out.
After a few days however,and a visit from Bark Busters dog trainers,they are best friends forever.
Penny is a great watch dog,very protective of us all,but is also a clown
at heart.She plays rough with me,but is very gentle with my wife and mother-in -law.
We look forward to many happy healthy,and fun years together..
Thank you very much,
Christopher and Barbara Day
Total German Shepherd
:
Hey there, Christopher and Barbara. It is good to hear from you all the way over in Ohio. Thanks so much for taking the time to come here and share your German Shepherd Dog rescue story with us all today. Love the picture - Penny looks soooooo comfortable!
And readers - thanks so much for reading and please come back often to see what else is going on in our growing German Shepherd community. Let us know what you think about the above story by leaving some comments below. It's easy enough to do - just click on the link that says "Click here to post comments".