Apollo - Rescued hours before he was to be euthanized.
by Linda Otero
(Palm Bay, FL)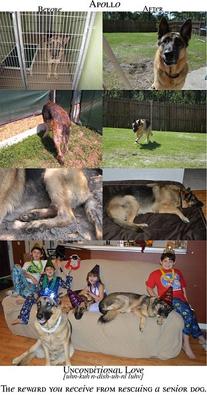 Before and After
June of 2012 I came upon an Animal Services site and noticed a GSD that was in VERY rough shape. To add to all his health problems, he was also a senior, at least 9 years old. His time was up, he was to be euthanized because no one would take on the responsibilities of a senior, very large and very sick GSD.


I called Animal Services and asked to PLEASE hold him for me. I drove the hour and a half and adopted him. He was missing most of his hair. He had a horrible and very painful skin infection that made his skin raw and bloody. He had both ear and eye infections. The inside of his ears were black from years and years of infections. He had large tumors on his head and leg.
He was so thin you could see his ribs and spine. ...And most of all... his spirit was broken. Humans had failed this wonderful, gentle giant.
I would not let him be put down. I had to give him a chance to know what love, security and family were...even if he only had a few weeks or months left to his life.
Since I already had 2 GSD's at home - it wasn't an easy transition but...I made it work. With lots of determination and a, will not give up attitude, all of my GSD's get along very well now.
It's been almost a year and Apollo went from being hours away from being euthanized, to being in a very loving home. He is healthy, being loved and cared for and loves being a part of a family. His skin condition, ear infections and eye infections have cleared up. Do to his allergies, I give him a medicated bath weekly and I clean the pads of his paws daily.
I am not sure how much longer Apollo will be with us before he has to cross over and go to The Bridge but...he will always know the feeling of family, love and security.
Apollo, my 120 lb lap dog, is enjoying life to the fullest now! He even enjoys hitching a ride in the back of the tractor while his fursister, Athena, drives! :-)
You can see a big difference in the before and after pictures attached. ...Save a life...rescue a dog...they say "Thank You"...with their eyes every day!
Total German Shepherd
: Linda,
Bless your heart for giving that poor boy a chance at a life with a family and other GSDs - if only for a few weeks, months or maybe even a few years. Apollo is one truly lucky boy!
It's people like you that make a difference in the world! Bless you, bless your dogs, and bless your persistant and kind nature! You are always more than welcome to post your own German Shepherds stories here with us - we love to read them!
Thanks again for sharing and continued success with all your fur babies, Athena, Thor and lucky little Apollo! ;)