ARCHIE Our Black German Shepherd
by Chris
(Appling Georgia)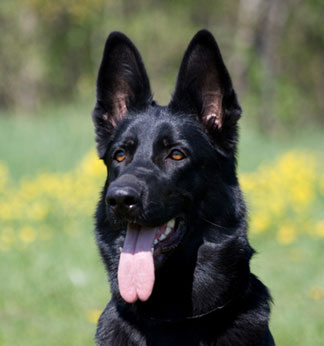 Archie is now two years old and we got him from a local breeder to keep as a gaurd dog and companion for both us and our fence jumping and now deceased lab bubba, when Bubba died the then 8 month old archie was inconsolable.


Archie was found on the side of the road laying down less than 5 feet from bubba who was hit by a car and left lying on the road side, for almost 4 months he would do almost nothing and would seldom play and laid quietly in his late contemporaries favorite spot on a bench on our back porch.
Now two and a half years old he is now back to his old playful self and now his favorite past time is to put on a show by playing with and removing tops from plastic coke bottles
Total German Shepherd
:
Hi Chris,
Thanks so much for sharing the story of your wonderful Archie with us. He sounds like a really good German Shepherd.
Bless his heart, it was hard to read the part about him and his buddy Bubba. Many people just assume dogs don't have feelings - they are so clueless because this is a prime example of a dog grieving for a friend.
I am glad to hear that he is doing better now. Continued success with him. Thanks again!