Bannon the crazy :) German Shepherd
by Keely
(North carolina)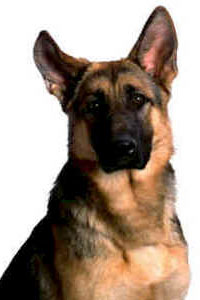 Let me tell you the story of my best friend... I have no idea how old she is, vet said somwhere between 2-5. She acts like she's 80. She was heartworm positive, had double ear infections so badly her ears didn't stand up:( she smelled really bad, her teeth are missing or half way broken. She is my little baby.


The DNA test says 99% german shepherd... Pretty sure she bad been locked in a kennel. She did not know how to sit or play with toys. When you went to pet her or even just walked towards her she crumbled to the floor slowly with her ears to the side and tail between her legs! After weeks of building up her confidence learning to never keep her in a room or kennel with the door closed she finally relaxed.
I take her everywhere to try and socialize, enrolled in obedience training she learned 6 commands in two weeks. The first time she saw my cat it was like wwII... Now they can lay by each other, get treated together and there has been only a game of " make kitty run"....
my daughter and i hand feed her and make her work for each piece of kibble. She is now so ridiculously spoiled with her hot pink nails, fashion collars, fancy bed and toys she is so attached she has severe separtion anxiety. I am working with her trying tO show he " its no big deal when mom leaves "
she has gotten better after just a few more weeks. I love bannon so much it hurts just to leave for work... but lunch time runs are always fun.... I have always adopted animals, this is my first german shepherd. I recommend reading up on training methods before jumping in and buying crates of carpet cleaner ahead of time!
Total German Shepherd
:
Hi Keely,
Thanks so much for sending in your story. I really appreciate you sharing all the details with us. In many ways you have a large puppy on your hands since she is so behind in many of the things that most dogs would have been around and have learned by now.
Bless poor Bannons heart. And thank goodness for you coming to her rescue. It's so nice to hear that she is coming around. German Shepherds are among the smartest of dog breeds in the world so keep that girls brain busy and she will be so much the better for it.
Training and socialization is among the best things you can do for her along with lots of love. Be patient with her and in time you will be rewarded with wonderful memories of all the great time that you spent together. She will forever be in your hands as companion, friend and pet. I wish you both nothing but the best!