Bella - obsession with stones saved her life

(England)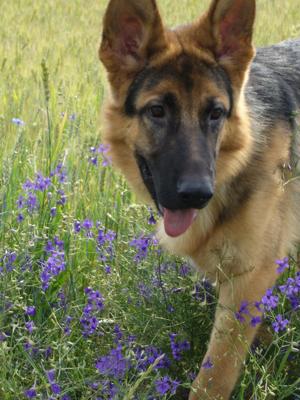 Bella is a female German Shepherd puppy. Eight months old, with a glossy black-backed pattern and blonde and gold markings on her belly, paws and face and a friendly, playful nature ( and a deep, booming, typical- guard dog bark.)


She belongs to my childminder, Liz, who has always been a GSD lover right from when she was my age (14), so we knew if she got a dog, it would be a German Shepherd. This is the story of an event that shocked all of the kids in her care, and left us with our hearts in our mouths.
A beautiful sunny day in August. Liz was just packing some items to go the local park (we don't have dog parks over here sadly.). As usual we walked into the square-metre-width hallway, where we filed out of the door one by one.
Alfie Davis* was 7 at the time, and he was a fair-haired freckly boy who couldn't help but get on your nerves. He didn't know much about anything but he was a well-meaning boy, and to this day if you so much as mention the name Bella he'll start to cry.
Alfie was the last one out of the house, and he didn't see Bella excitedly rush out of the doorway and onto the gravel path outside. I was leaning against the wall when I heard a cry of "Grab her!".
I turned around to see the lanky puppy bounding down the path. I instinctively made a grab for her collar, and cursed as I felt my hand slip over the lump that was the half-choke affair. Darn you, long shepherd coat.
I ran after the pup, but she turned around and saw me chasing her, beginning to run all the faster for it. I heard Liz scream as our furry playmate turned and leapt at the gravelly ground, tossing stones and barking. And then she headed for the road. I don't know if you can feel the blood rush out of your face, but I think I came pretty close.
Liz tried to grab her collar as she dashed past but Bella ducked out of the way and turned to face us, setting her paws firmly on the tarmac as she barked happily. Do you know how much danger you're in, dog? went the shocked thoughts in my mind .
No cars yet though, thank God, I thought as the sound of Alfie crying in the background became quieter, as though I was fading away. Just then, we heard the roar of a car as, to our horror, Bella began pacing up and down the kerb.
Liz was calling her puppy desperately, frantically searching for an aid, anything at all. She had no toys to hand and Bella obviously wasn't going to come to her willy-nilly.
Then she must have had a brainwave, which was in the nick of time because the car we had heard earlier had about 6 seconds before it would hit the spot where Bella was standing. "What's this Bel'?" cried Liz suddenly, grabbing a stone from the drive and tossing it into the air.
Bella came dashing over, curious. Liz grabbed her pup by the scruff of the neck, grasping her collar underneath the fur. She picked the dog up under the "arms" and held her to her chest.
This was no easy feat as Bella was about a metre long and weighed roughly 54 pounds, but as they say, when emotion calls us, we find the strength to listen. I helped Liz to carry her inside and we set her firmly in the crate room, where she crept into her cage, exhausted.
We managed to go to the park in the end. I was surprised, I thought Liz would be so upset we'd all get sent home. But we knew from then on to close the babygate until Bella was firmly in her crate.
Sometimes when we let our dog out into the garden, she will jump about like a fox on drugs for no apparent reason. She won't have anything in her mouth- at least, not anything we can see.
But if me and Liz sit on the garden step, and watch the lovable GSD racing round the yard, I'll whisper "Don't you ever train her out of that, even if it gets to such a stage it's dangerous" . She'll know exactly what I mean, because we will always remember the obsession with stones that saved our puppy's life.
Thanks for reading *Name has been changed xx