Choosing the right dog. Protecting children... German Shepherd or collie?
by Mike Biehler
(Edson Alberta, Canada)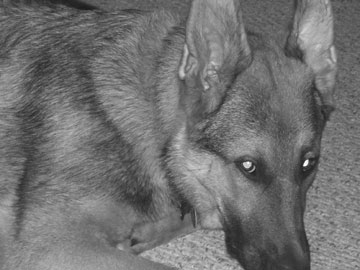 We live on the edge of town on five treed acres. We are often visited by deer and moose and this year by a cougar. Our children are aged 3,5 & 7. Since the cougar siting we are afraid to let the kids play in our yard. We need a dog.
A german shepherd seems like the right dog because it is territorial, vigilant and protective. But our last dog, a shepherd cross, was inclined to be too aggressive toward visitors. We did not make him aggressive, he was the most pampered dog you could imagine. He just had a deeply inbred suspicion of strangers.
We're afraid that a pure bred will be even more inclined toward aggression. Should we buy a collie because it is so child friendly? Or can you tell me how to buy a gentle shepherd?
The new dog, will be an outside dog, but he will live in dog heaven. He will be free to roam in a huge yard which is surrounded by an invisible fence and he will get plenty of attention from the kids and from two adults who jog or ski almost every day.