Christmas Boy Shep
by Nancy
(Southampton)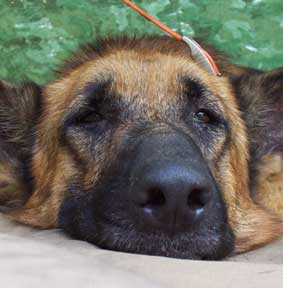 My husband's friend who does house clean outs for hud housing found a homeless guy with a german shepherd. He did not want to bring the dog to the shelter so he asked us if we knew anyone.
We had a friend who recently lost their german shepherd to a brain disease so we called them and they decided to take him. The next day I got a phone call and he was growling at them and they were scared of him so I said bring him over (it was christmas day) and I will find a home for him.
He took a liking to my daughters but would growl and bear teeth at me and my husband. I told my husband lets bring him to the vet and have his shots and neuter to see if this changes him.
We also have 3 chihauaus and we were concerned for them but he was mostly afraid of them. I also forgot to mention I do not have a fenced in yard and he being a little over a year (vet info) needed lots of exercise.
I began walking him 3 miles a day and he is now my best friend. I say who needs the gym when you have a shepherd walking companion.
Total German Shepherd
:
Hey there, Nancy. Good to hear from you all the way over in Southampton. Thanks so much for taking the time to come here and share your German Shepherd puppy story with us all today.
And I'm so glad that he is healthy and out of feeling better now. Good for you both! And good luck with Shep - he will make you a fine pet for many years to come.