Constant Whining by My German Shepherd Puppy
by Lauren Aiken
(South Carolina)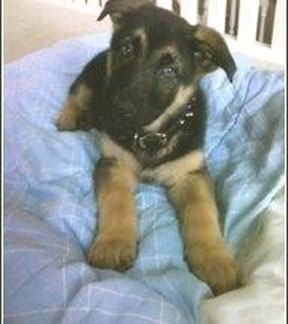 Ever since I got my pup from the breeder he has done nothing but whine about everything. He always wants me to pick him up when he is not sure of his surroundings.


He will not leave me either. He is always under my feet. Last weekend i went to the lake and i went into the water for a quick dip leaving him on the beach with my boyfriend. He went after me without me knowing and swam out to me.
I like that he wants to be with me but sometimes i have to leave him and he acts like i am killing him. (When i crate him) I never leave him for long he always has toys. I want to teach him to be confident. How do i do this?

Total German Shepherd
:Congratulations on getting your new
German Shepherd puppy
! You never mentioned how old your puppy is but let me share a few things with you quickly about GSDs.
First of all, German Shepherds as a rule can be pretty vocal using groans, whines and loads of other vocalizations other than barking to communicate their feelings with you. And some German Shepherds are more vocal than others. Sooooo.....
With that in mind, you may just have a very vocal
German Shepherd puppy
trying it's best to communicate with you. You are so lucky! I love when my dogs vocalize to me - and over time you'll learn to understand what these whines, moans and yips mean too.
But as far as making your German Shepherd puppy more confident, I would recommend that you continue to
socialize your German Shepherd puppy
- all the time and everywhere that you can. And I would also encourage you to sign your German Shepherd puppy and yourself up for a
German Shepherd training class
. Good luck.