CRAZY INSANE CONSTANT SHEDDING IN MY 5 YEAR OLD German Shepherd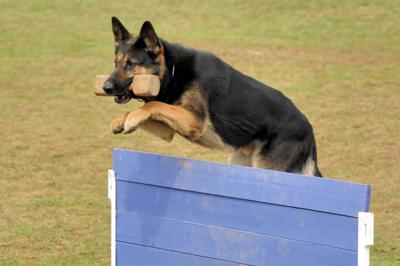 I Recently rescued a 5 year old Shepherd and he is an amazing dog! I noticed he shed a lot so, I took him for a "deep clean" so to speak. I had already been brushing him 3-5 times a day and after the grooming (they told me they removed a ton of hair,) I continue to brush him 3-5 times a day to no avail!
The amount of hair he leaves on the wood floors daily is unbelievable, not to mention the bed every morning. I love him to pieces but this hair thing is sooo hard especially with trying to sell my house. I feed him dry Pedigree Brand for adult dogs and have every brush/comb known to dogs. Can somebody PLEASE help!
I am breathing, eating, basically living in hair! It is also making my asthma worse. I read 1 article that said give 1 part brewers yeast 1 part garlic and 2 parts doggy stew..is this safe? I also read another that said they shave their shep every 2 months and have no shedding trouble??? I have read how they "blow" their coats etc. but he is not that furry after the grooming. Can you please help..I don't want to get rid of him I love him SO much!! Thank you for ANY tips!!!