CURING AGGRESSION IN ADULT GERMAN SHEPHERD
by ED COLE
(STARKVILLE MS)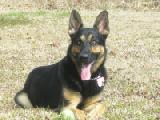 How can I keep my 4 yr old male shepherd from being so aggressive toward other dogs? We recently took him in from a friend who had to leave the country.
He has had health problems since we got him - fistulas and emergency surgery for GDV which have complicated discipline. We did have him neutered.
He is very difficult to control when we encounter other dogs - but is (mostly) good with people. He has had obedience training and is responsive except around dogs...
From Total German Shepherd:
Well, what I would suggest first is to try and get the health issues under control as best you can. If the dog is in any kind of pain that may make the situation worse - could you blame him?
Next, I would suggest getting him into some kind of dog training class - whether you sign up for a dog training class or try to do it yourself if you think you can handle it. Training is what your German Shepherd needs.
And if you want to learn about one dog training course I can suggest you try this one below. Just watch the video to learn even more - and good luck. Just click on either of the banners on this page even though they both say they're about potty training but its all the same company.