Dallas-Forever in my heart
by Elaine Modlin
(Laurinburg NC, USA)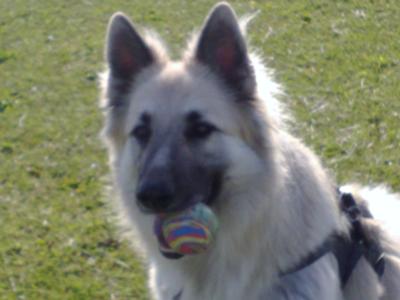 I've been an Animal Control Officer for my city for over 29 years. June fourteen years ago I received a call reference a German Shepherd puppy running loose around a church yard on Blues Farm Rd.


I had received a lost report about a German Shepherd puppy that someone had lost the same night they had purchased the dog 3-4 days earlier.
The puppy was 5 months old and was still dragging the leash. It would not come to them and she also had growled at the children. When I arrived at the church the puppy ended up going into this small closed off section of the church and I was able to grab the leash.
She made one low growl but let me pick her up. I don't know what it was but I felt a connection with her.
I talked with the family and advised them that this puppy would not be a good one for the children because of its temperament and told them I would pay them what they had paid (which was $50.00) and I would take her that I have had German Shepherd for years and used to raise them and I would be able to handle her. And they agreed.
I never even took her off my truck - took her right home and put her in the house. She was a little skiddish of me for the rest of the day but went right out the doggie door without even being taught and used the bathroom and came back in. From that next day on Dallas was my shadow.
She never acted scared of anything I was doing with her totally trusted me and no one else. Became very protective of me and home but when she went to places like the vet she was a perfect Angel. There was a bond between us that was so strong.
She past away on May 19 after a long battle with various illnesses. Losing her broke my heart. I had her cremated and her urn is beside my bed. I think of her always even though I have eight other German Shepherds.
One of them I adopted out in August - someone turned her in because she was jumping up on the children. The strangest thing is she looks a lot like Dallas. She was 5 months old, the same age Dallas was when I got her. And she was born in March, the same month Dallas was born in.
I named her Austin, and she has a much friendly disposition than Dallas did to other people and it took me a while to start bonding with her, but somehow I have to think Dallas had something to do with this!!