Do GSD puppy change color as they grow?
by Kari Wagner
(Rogers MN)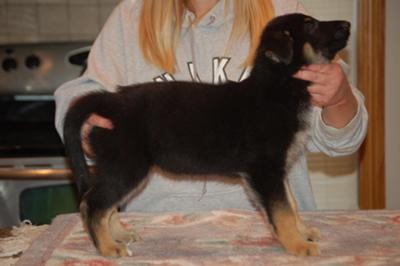 what a little cutie!
Do GSD puppy change color as they grow?


I have a GSD ((9 weeks)that is mostly black. the breeder assured me that they lighten up as they get a little older and that most GSD as born promanently black!
Is this the case? She has light feet and chest but that about it so far!
~Kari, Rogers MN
Total German Shepherd
:
Hey Kari,
In response to your question about whether or not German Shepherds change color as they grow, the answer is yes, yes, and yes (except for maybe solid black or white German Shepherd puppies - and sable German Shepherds are another whole different thing).
Your girl is very typical of what I would suspect a saddleback German Shepherd puppy of her age to look like. She is a beautiful GSD puppy by the way. If you were to see any pictures of your new German Shepherd puppy even a few weeks back you would notice that she was probably very much darker than she is now.
But saddleback German Shepherd pups typically do lighten up overall as they age - the black areas on their body will shrink as the colored areas (tan,red,silver,cream,etc) grow. Usually on their legs, face, chest and back especially.
It is really quite amazing to watch the changes in color that will happen to them over time. And even litter mates never color up the same exact way so they are truly one of a kind.
So if I were you, I would take a picture of my German Shepherd puppy once or so a week (in a similar pose) and then at the end of one year go back and review the changes - you'll be amazed. Plus it's fun chronologically speaking to see where your GSD puppy was - and where your German Shepherd puppy ended up. Good luck!