Does my puppy look like a pure German Shepherd?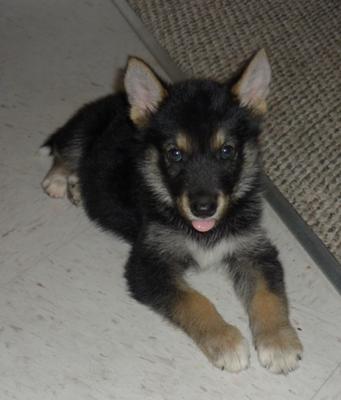 Just got him recently, he turned 8 weeks in this picture. And is it normal for some sheps to have a distinct white tip on their tails? All his other siblings didnt have the tip, but my little guy did.
Total German Shepherd
:
Now that is one cute puppy! What a little sweetheart!
And the ears are up soooo good - but they don't look like German Shepherd puppy ears to me. A German Shepherd puppys ears would be at least half again the size of your pups (maybe even double) even at this young age. Your babies ears look much more like Husky or Malamute ears to me.
Plus the feet are way too small. GSDs are known for being well endowed in the areas of feet and elbows as they mature and often times look really gawky as they mature before they get the image of what a adult German Shepherd should be.
The color doesn't bother me any as white has been in the German Shepherd since before the breed was fully developed a loooooong time ago and I love the white tip - I think it adds personality and uniqueness to your little baby.
But overall, just based on the picture you have sent me today, I would have to say that your puppy is not a "pure German Shepherd". But your puppy does have some German Shepherd like features.
I'm just curious - didn't you see both parents when you picked up your puppy? But if I were you I really wouldn't worry about it too much at this point anyway. You have a beautiful new puppy to play with - give it all the attention, care, training and great nutrition that you can, and you will have a wonderful companion for the duration of its sweet little life.
And enjoy that sweet puppy breath all you can because it only lasts such a short while. :) I really miss that..... Good luck!