Elbow Pain in my German Shepherd, Is it Elbow Dysplasia?
by Chastity
(NC)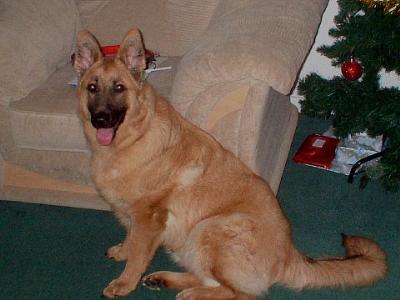 We just got a 6 month old German Shepherd. He suddenly began walking with a limp in his left leg.
He does not seem to be in pain anywhere in his leg other than his elbow. When we squeeze his elbow he cries. However, he has full rotation and movement of the Elbow and does not seem to have any pain when we move his Elbow back and forth, etc.
He has no swelling and it does not seem to be out of place. He wants and likes to play, run, fetch etc but he has a limp. He doesn't seem to have problems getting up and down or climbing steps.
I have been doing research and the only thing that comes up is Elbow Dysplasia. Could he have Elbow Dysplasia? I know his parents were free of hip dysplasia and he comes from a very reputable breeder.
Is it possible it could be Pano or a strain or pulled muscle? Help, Please!
Total German Shepherd
: Sounds very much to me like pano which is very common in developing German Shepherd puppies - and male puppies especially.
I would encourage you to have your vet check him out to find out for sure what is going on with him just to be sure and to know how to treat his symptoms.
Read more about
Panosteitis
now, schedule your vet visit and good luck with your GSD puppy.