Elderly German Shepherd
by Malene
(London)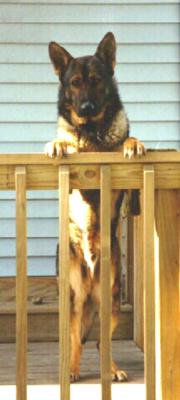 Elderly German Shepherd - How long should a 10 yo German Shepherd with no particular health problems be walked and how many times a day?
Total German Shepherd
:
First, since I don't know your dog, I would suggest you get your big baby vet checked first to make sure it is okay in all respects.
Assuming that goes well and If your GSD is still getting around pretty well with no particular problems then I would think a moderate walk 2 or 3 times a day at least for 20 - 30 minutes at least should be no problem.
Not jogging. Not a race. Not a sprint - but a nice walk should be fine - doesn't even have to be a fast walk. Maybe even a few games such as fetch - at a slower pace.
But watch your dog to see how it reacts during the walk/exercise and especially afterward and that will tell you even more.
If your dog is out of shape start slowly then build up but if it isn't stiff the next day and seems fine then you'll know that this isn't too much for it.
Don't confuse elderly with bedridden - it's actually much better for your dog - even the seniors - to keep them moving and to provide it with daily exercise.
Good luck with your senior German Shepherd.