From Trash to Treasure
by The Jones Family
(Tulsa, OK)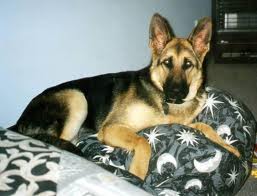 Our girl's Name is "Layla" or "Layla Sunshine the Wonder Pup". I had been activly looking for a GS, perferably a female.


We knew we wanted to rescue one. There are just so many good dogs who are homeless. I had answered some calls from a few people needing to re-home their dog for various reasons but it just never "felt right".
My best friend & I was looking at Pet Finder one morning (her at her home & me at mine. We were on the phone together) and we stumbled on this pup about the same time. There was something different about this one. She did feel right.
The shelter she was at was 4 1/2 hours away and in another state. I called them and they told me they still had her. She was very sick with kennel cough and needed to visit a vet very soon. No problem. She had been there for two weeks and was meant to be put down the very next day. We promptly organized a road trip and set out to save this girl.
Come to find out, she had been adopted a couple of days earlier by a man who brought her back because he didn't want her. Part of me wants to smack him 1. because he's an idiot and missed out on a fantastic dog and 2. I can't imagine how that must have broke her lil puppy heart to have to be returned back to the pound.
The good thing about him surrendering her though is that she was placed in the right home. I'm so thankful that they didn't put her down right then and there.
To make a long story short, she had a recovery to make, then we had her spayed and microchipped and started obedience training once she was recovered from all. I can't tell you what a great dog she has become to our family.
She's so smart which makes training a snap. She is so sweet & loyal, protective too. We take her everywhere with us! She loves to pick up the kids after school. Her & our sons go play in the back yard when we come home.
She makes our heart smile everyday. Her name literally means dark beauty to light. She is very beautiful too.
People can't believe she was a stray that no one wanted. She needed us but we had no idea how much we needed her. We are looking forward to many great years with a very special member of our family.