German Shepherd Anubis (Nubie), Rest in Peace
by Catherine Lyon
(Brownwood TX)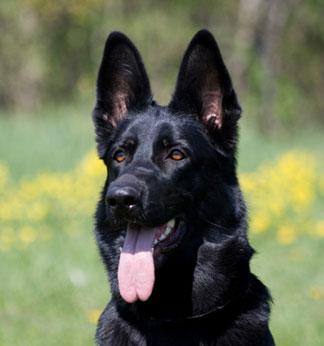 Nubie was our solid black GS straight from Germany and looked just like the Egyptian god Anubis (hense the name). We got him at 3 years old from a GS breeder that thought that Anubis would be a great fit to our family. He was correct.


Anubis was perfect fit for my family of three children. Nubie loved to be loved by all, he roamed the woods with my middle son or ran alongside my son's bike (no leash was ever needed),he layed in front of the mirror with my daughter watching her change clothes millions of times, and loved to lay on the couch with my youngest son playing video games or romping together in a game of soccer.
Anubis loved to be in the kitchen with me when I cooked, he was the official family taste tester (a job he took very seriously!).
We had to finally put Nubie down because he not only had hip dysplasia and hearing loss, but he also developed cancer that affected his eyes.
We did not let the Vet take him off alone, our whole family layed on the floor with Anubis as he gently fell asleep in the Vet's private office.
We only had Nubie for 7 years, but those 7 years were with the best friend that any one of us could ever have had. We love and miss Anubis. Sleep well Nubie, you are forever loved!
Total German Shepherd
:
Catherine, I am so very sorry for your loss. Let me say right up front that I am so very sorry for your loss - it is a shame you didn't get the chance to have more time together with your beloved Nubie. It is so very hard to lose a wonderful German Shepherd at any time but your memories will help you through it all. Your memories will stick with you forever and help through your grieveing process. But thank you so much for sharing your story about your German Shepherd Dog, Nubie, here with us all.
And to our readers, thanks so much for reading this story and please come back often to see what else is going on in our growing German Shepherd community. And if you get the chance please leave some comments, place a video of your own or tell us your own German Shepherd story in our sharing section. And come back often as things will change daily.
"How do I do that?", you might question. It's fairly straight forward to do - just click on the link that says "Click here to post comments" and if you want to examine what other individuals have mentioned you can do that too at the same spot. It's easy enough to do - just click on the link that says "Click here to post comments".