German Shepherd ATAGGIO 8/13/10 - 6/21/11
by Mary Lackovich
(Marshall, WI, USA)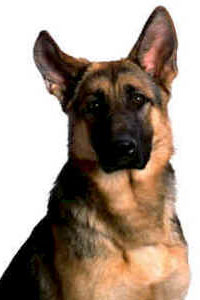 A noble friend, of ancient blood,


A staunch and mighty guard,
A loving comfort, heroine,
A loss that hit us hard.
She left behind a family
And friends to mourn her death.
She left behind a wash of tears,
As she drew her last breath.
Computer networks span the globe
And contact now is found
With folks that we may never see
But feel with touch profound.
The dots of light on screen of glass
Shape words of joy or pain,
We teach and learn and share our lives
And blessings deep we gain.
So now I sit with sniffling nose,
A tear runs down my face,
I share a loss and try to find
Pure words of peace and grace.
A young dog has died, but more than that,
A precious life has passed.
We take them in, they bless our lives,
Then leave us much too fast.
God grant us peace and mem'ries long,
Our short-lived friends to keep,
In stories, images, and thoughts,
To calm us as we weep.
Now, lightning's brother, speed my words,
Through fibers, disks, and such.
May cold computer magic turn
To caring, human touch.
Rest in peace,
My Sweet, gentle, brave Attaggio .
Total German Shepherd
:
What a beautiful poem and thank you for sharing it with us all here. I am so sorry for your terrible loss. It is never easy but it will get better in time and eventually you will be able to think about your brave Attaggio with both a smile on your face and tears in your eyes.
It is a shame that we don't have them for longer but our selfish needs and wants are not a match for what they give us in the short time we do get to share with them. So enjoy your critters for the time you do have with them and savor the memories of those who have past.
They are all memorable in their own ways and our relationships with them only shape us to be better owners and friends for future animals that we may have. In the meantime, allow yourself to grieve - your German Shepherd should easily be worth that to you - and in time it will not hurt so much.
So thanks for sharing with us in your time of grief - which I think is very helpful in itself and give yourself time. And again I am truly sorry for your loss.