German Shepherd, Bella Fricka von Kirschental
by Bob Cembrola
(R.I.)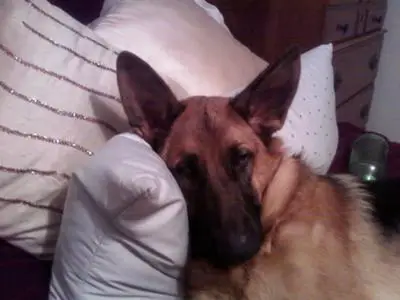 Bella and Kally
Bella turns 1 today, she arrived in Boston from Germany on June 1, the day tornadoes hit New England. She is now very sweet, intelligent and incredibly curious.


She loves to chase anything that moves including birds. She goes to day care 5 days per week and is the official greeter for new dogs arriving there.
She is finally getting over her chewing stage, thank God!
Total German Shepherd
: Hey Bob,
What a lovely girl your Bella is. And I especially love the picture you sent of her too. She looks really comfortable all propped up on those pillows. Is she on your bed too? Nice picture.
Yes, it is really nice when you both make it through the puppy teething phase! I agree whole heartedly with that comment. And I'll imagine there are a lot of young puppy owners out there waiting for the day when their own GSD puppy has completed the teething phase.
Hang in there if you're in that situation everybody - it does get better - wouldn't you agree Bob? And as these wonderful puppies mature they do chill out a bit (usually) over time. So be patient puppy owners.
Anyway, Bella is a beautiful female German Shepherd. Good luck with her in the future - she is a gorgeous girl!