German Shepherd "Cali" is definitely a rescue success story
by Michele Goodman
(Maryland)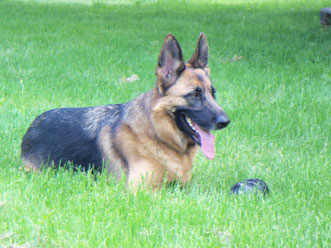 Hello--
I would like to enter Calypso for the GSD of the Month Photo Contest.
She is a 2 year old GSD that I adopted from the Mid Atlantic Germans Shepherd Rescue a year ago. The rescue saved her from a certain death at a local animal control shelter.
"Cali" is as sweet as can be to everyone, lives to play tug/fetch, great with other dogs and very, very smart. She is soon to be a certified Explosive Detection Dog and will be working with me and my other K9 - Rocky.
Cali is definitely a rescue success story!!!
Total German Shepherd
:
Hi Michele, thank you so much for telling us all about your great rescued German Shepherd Cali. She is really a beautiful German Shepherd Dog! What a wonderful story and what a great companion you have there. And what a wonderful accomplishment for her to become a Explosive Detection Dog. That is fantastic - she must be really smart and playful too!