German Shepherd Chopper, Male, 7yrs is so BEAUTIFUL!!!!!
by helene
(monterey park ca usa)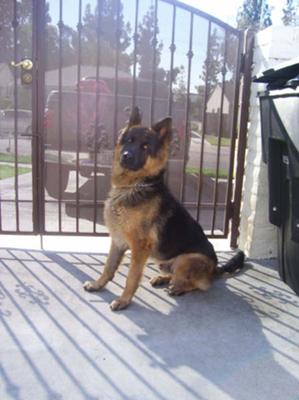 Let's go for a run
Chopper is so BEAUTIFUL!!!!!
He loves to walk with my husband...they walk 3-4 miles, 5x's a week; should my husband skip a day...Chopper will jump the six foot fence and will wait on the front lawn under our tree or on the porch....he is SPECIAL!!!!
Helene, monterey park ca usa
Total German Shepherd
:
Hi Helene,
Thanks so much for sharing the story about your handsome little man, Chopper. He is a really good looking young man - and the fact that he can walk that long a distance that many times in a week is truly exceptional.
Good luck with your boy - he is beautiful. I truly agree with you on that! But then I am just a little bit biased when it comes to German Shepherd Dogs and puppies!