German Shepherd Dog Krieger des Erzengels Gabriel AKA Gabriel
by Pamelia Sparks
(Bristol Tn USA)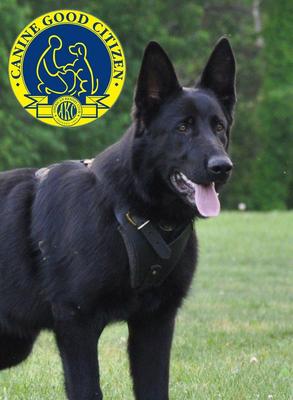 What a handsome black German Shepherd puppy
Gabriel is a 9 month old, Black GSD. He is now about 100# and a wonderful boy. He has been working on his personal protection training with Ultimate Protection K-9 Training Club in Chilhowie Va. He completed his CGC with flying colors.


When he is not training he is a total goofball.. making me laugh on a daily basis.
Pedigree is located here: http://www.pedigreedatabase.com/german_shepherd_dog/dog.html?id=745684
Thank you for looking.
Total German Shepherd
: Talk about a handsome black GSD puppy - Gabriel certainly is that and whole lot more. Congratulations on all his training too - that is exceptional! If more people got their dogs through CGC training at a minimum what a wonderful world it would be!
I really love black German Shepherds - such handsome animals. And just simply stunning to look at too. I have had one in the past and she was a handful to say the least.
Keep us up on Gabriels future training because that is one thing that German Shepherds absolutely excel in! They need a reason to use that incredibly intelligent brain and training is a great way to do it. Good luck in the future with Gabriel and many years of companionship to you both!