German Shepherd Fritz, Our New GSD Rescue
by Janet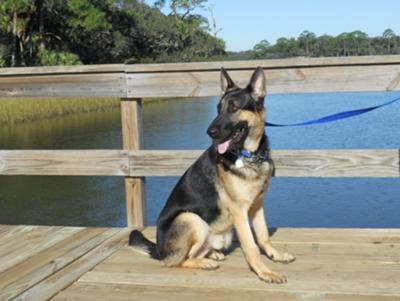 Let me introduce you to Fritz. We adopted him almost 2 months ago from a local GSD rescue and now can't imagine life without him.
He was not treated very well in his previous life and was left tied out in a back yard where his collar ultimately wore into his neck. His physical wounds have healed and I don't think he's looked back since his rescue.
What he does look forward to are his long daily walks and playtime with the frisbee and whatever else he can conjole you into throwing. He is a happy, sweet, affectionate dog and makes us laugh repeatedly with his childish antics.
I'm sure anyone who owns a dog like this knows exactly what I'm talking about. Since we're eternally grateful he's here in our lives (and that we are fortunate to be in his) and since he loves getting his picture taken, it's with great pride that I post his handsome photo.
Enjoy!