German Shepherd Gracie comes home
by Chris Benton
(Potomac Montana)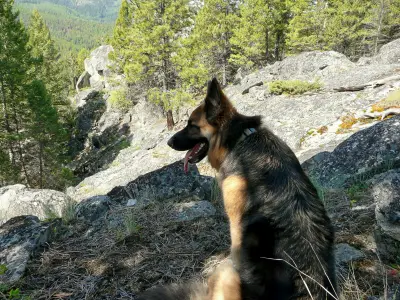 There are many ways to find the perfect canine companion. For me, it has always started with a puppy. A puppy is pretty much a piece of fine wood waiting to be carved into a piece of art.


You start with a certain grain and texture, a knot here or there, maybe some imperfection in the grain, but as you work with it the imperfections they become part of the finished product - a unique refection of the carver and his vision for that block of wood.
Under a skilled carver those perceived imperfections are blended or maybe highlighted to become a piece of art. That knot that looked like a glaring fault can become that very characteristic that make the piece special.
Likewise a puppy comes with certain inherited traits and temperaments some which at first may be perceived as a fault or flaw, but under careful guidance and direction tempered with love and compassion will become that perfect companion in the eye of his creator. Now let me be clear my perfect companion may not be yours. I have always had the dog I created, adapted to my life and my vision, my perfect companion.
What happens when that block of wood has already been whittled at, chiseled, or maybe gouged by a person who does not have your vision or maybe even no vision? Can you take that already molded and damaged piece and still carve out your masterpiece. I am here to say you can.
Gracie came into our life two days after Jocko our six year Shiloh died of kidney failure. I don't know what exactly made her stand out. First of all for a German Shepherd she was small, and she was female. I prefer big male shepherds.
I had taken a couple of days off of work still trying to come to grips with Jocko not being there. I was browsing the local rescue groups on the internet, not really looking for anything but just to take my mind off of the empty space at my feet and there she was. Like I said not really my type, but something about her grabbed me.
I talked to my husband and we made plans to drive the sixty five miles to the shelter and take a look. We loaded Tanner and Kola, both seniors at the time, into the van and set out. All the way there I kept telling my self that we were just looking.
We arrived at the shelter, talked to the shelter people and they told us that Gracie was thirteen months old and had been turned in because she was too hyper. The shelter worker took her out of the kennel and took her to an exercise yard. There was a big soccer ball in the yard and from the moment the girl turned Gracie loose that was all Gracie could see, she ignored us, she ignored Tanner and Kola, she just frantically tried to destroy that ball.
Warning bells went off in my head but I ignored them. My husband and I talked for about all of thirty seconds and then told the shelter worker we would take her. After filling out all the paper work we loaded her into the van and had an uneventful ride home. It seemed like Gracie would fit in just fine.
So that was the start of a journey for both Gracie and I. During that first week I quickly learned that Gracie was carrying a lot more baggage than I was led to believe. She savagely attacked Tanner because he dared to sniff a ball that Jim had been throwing for her. Jim had to pull her off by her tail and then pin her to the ground to keep her from trying to get to Tanner again.
This was no normal leave my ball alone attack she was in for the kill. Other problems made became apparent. Although I have a fenced area for our dogs it is not attached to the house. Our dogs are trained as puppies to understand their boundaries and home territory. Although I would never leave my dogs unconfined with us not being there they are used to being unrestrained when we go outside and do chores etc.
Also almost all of our walks and runs are off leash events for the dogs. I just took it for granted that Gracie would stay with me when we went outside. I learned quickly that Gracie had other ideas. One of our first walks on our property I started out on leash and foolishly let her off. She was gone in a second; I thought I would never see her again.
I had Tanner and Kola with me and we sat down to wait. Miraculously she came back but she would not come to me. She slunk around and kept just out of reach. I finally enticed her home and got her to come in the house with a piece of chicken.
After the first week I was contemplating taking her back, but the Missoula dog community is pretty tight knit and a friend of mine knew someone who thought they knew Gracie's previous owners. They gave me the phone number. I called and sure enough this was the right people.
Gracie's previous owner proceeded to tell me the sad story. First of all we were Gracie's fourth home. They turned her in to the shelter after she attacked their dog and took its eye out. She had been with them about four months when this happened. They didn't know much about her previous homes other then she lost one home when the owners moved and the other because she was too hyper.
As I listen to this person describe Gracie's life I looked across the room to where she was laying. She chose that moment to look up and meet my gaze. As I looked into her eyes I could see the fear, the question, and the uncertainty. She seemed to be asking "Are you the one, can I trust you?" At that moment I made her a promise- I would not give up on her. We would work this out together.
It has not been easy and there were many moments when we both had to learn to trust each other. But slowly over time the bond was formed and there was no turning back. Three years later as I sit at the computer, I look down at my feet. Gracie is as always right there, my constant shadow. She looks up at me and I no longer see doubt and fear in her eyes. What I see is my perfect companion. We still have a long way to go and many problems to over come but Gracie is finally home.