German Shepherd hind leg problem
by Richard Rivera
(Beale AFB, CA, USA)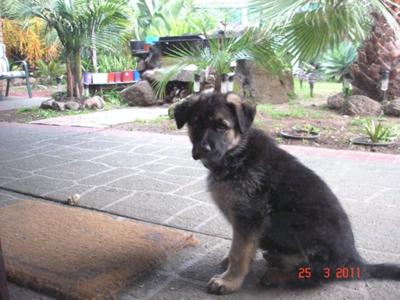 my dog this morning woke up and has been limping. she is 5 months old an this is the first time ive ever seen her like this.


she is normally very energetic and currently she is down and she doesnt want to eat. this worry's me cause she is my sons dog and he is 4 years old and the dog means the world to him and to me its the dog we have always wanted.
she has been limping and it is her right hind leg that has been bothering her she cant make it up steps and all she does now is lay down to stay off her leg. what should we do in reference to my dog, if you can please let me know asap that will be greatly appreciated.
Richard Rivera
Total German Shepherd
:
It would be very hard to say without actually seeing her - was she injured in some way? Did she play too hard the day before? Did she fall or jump onto something?
Either way you need to get the German shepherd puppy to the doctor asap because the fact that she is not eating on top of the limping is fairly normal but does need to be assessed. It might be something as simple as pano or something much different but let the vet check her and tell you what is going on with her.
That way, your puppy will be diagnosed and treated and on it's way to feeling much better. I wish I could help you out but in this case I can't.
So please, don't waste time asking me questions about this now since I can't help her in this situation - take her to the vet asap and find out exactly what is wrong right now. Then you can get her healthy and back to her playful old self.
And if you get the chance, everyone, please leave us some comments here, we'd love to hear what you have to say. And if you have the time, please join in with us here and place a video of your own or tell us your own GSD story in our sharing section.
We'd also love to see your German Shepherd pictures - after all the German Shepherd is one of the most beautiful dogs on the planet! I'm sure we can all agree on that. And thanks for visiting us here at Total German Shepherd and being a part of our site.