German Shepherd is Aggressive All at Once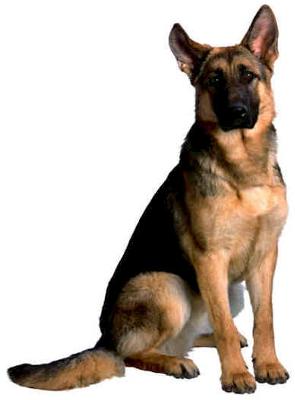 I have a German Shepard male who will be 2 in April....We have had him since he was about 7mo.old...I feed him, brush him and take care of him..He is an outside dog.
We live on a big farm and have 3 other german shepards..One is 12 yrs old and the other two are younger than him but were her before we got him....Yesterday as I left for work, he stood in front of the door growling at me..
Everytime I open the door he growls and growls and the hair stands up on him and he holds his tail straight up...He is fine when I get home...but when I get home and go inside if I open a window and look out he growls or if I start to come out the front door!! What the heck????
He weighs over 100 lbs. and even though I don't let him stop me, he seems to be getting worse...
Total German Shepherd
:
Quite strange. I would definitely get your dog to a vet and have him checked to make sure there is no underlying cause for this sudden change in behavior.
Next I would suggest you talk to a dog trainer(s) about this asap and see what they might suggest but I would seriously not overlook this issue and just hope that it gets better on its own. Get help soon!