German Shepherd keeps weight off leg when standing
by Tom
(NY)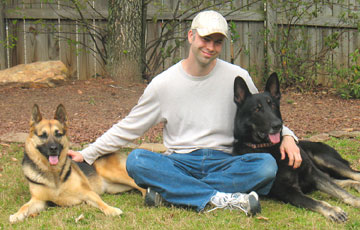 GSD seems to have no pain and walks/runs normal, but when she stands still she keeps weight off leg raising foot off floor. nothing on foot, no swelling, all bones seem to be ok.
She just started heat. 16 months old. This has been going on three or four days. Dog is very active.
Total German Shepherd
: I'm no vet and without seeing her in person all I can tell you is that what you've described to me sounds very much like
Panosteitis
to me.
Take her to your vet and have her checked anyway, since she's not acting "normal", but while you're there have him check her for
Panosteitis
too - chances are that may be her problem.