German Shepherd Lucky's Story
by Kim Hermans and Tony Chopp
(CA, USA)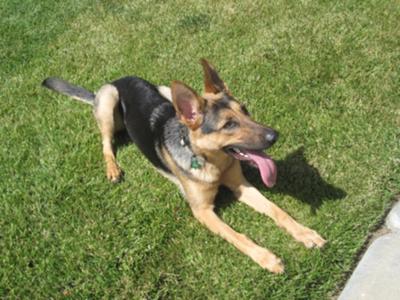 Lucky was rescued by us last Thanksgiving. The Wednesday before Thanksgiving, she wandered onto a high school campus in Cerritos, California.
Even though she was still a puppy at an estimated age of 7 months old, she scared the students as she happily followed them onto the school grounds. The students notified the campus supervisors, and the supervisors went out to capture the dog.
Funny Lucky thought it was a game of keep away, and it took a little while before she was captured. The campus supervisor sent out an e-mail to all the teachers and staff asking if anyone wanted to take her home over the long Thanksgiving weekend.
I jumped at the chance to take her home. We searched for her owners, but it appears that she had been abandoned. She has been living with us ever since, and we consider ourselves lucky that we found Lucky.