German Shepherd Mix?
by Amber
(WA)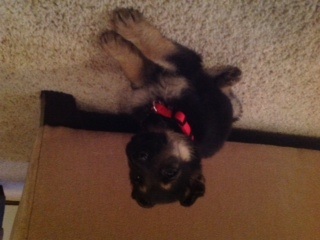 Is She a German Shepherd Mix puppy?
My husband, a police officer, recently rescued a stray puppy from subzero temperatures while on duty. He fell in love with her right away and, needless to say, she is now the newest member of our family.


Being so close to Christmas, we named her "Rudy." She is undoubtedly a GSD, but we have no idea if she is a mix and, if so, with what other breed she is mixed.
We have had a member of a GSD Rescue tell us she looks to be purebred. We will love her regardless, but are just curious what you and your viewers might think. Thank you and Merry Christmas!!!
Total German Shepherd
: Hey Amber,
Congratulations on your newest addition, Rudy! And please give your husband a hug for me for rescuing this baby. What a great and heroic rescue.
So, let's post your story and picture and see what the readers think. Either way, I know your new rescue will love you and provide you with years of companionship and love. Good luck with her and maybe in the future you can post some updated pictures of her too!