German Shepherd Puppy Ears Dropping
by John Lentz
(Huntington wv)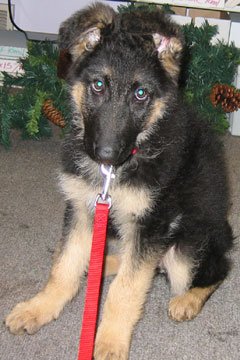 I have a 12 week old GSD male that until last week, he had both ears up. Now one has dropped.
Is there anything I should be concerned about or do?
John Lentz
Total German Shepherd
:
Personally at that age I wouldn't really worry about it too much. In fact, you can probably expect the ears to be up one day and down the next for a few more weeks as the puppy matures.
But if you want to learn even more about those
German Shepherd puppy ears
then please check out this page for more info.
You really don't have to worry too much until the puppy gets to be 5 months or older and the ears aren't up completely on their own. Even so, the link above about the
German Shepherd puppy ears
will give you details on what to do about taping the ears up if you ever need to do so.
So, good luck with your German Shepherd puppy.