German Shepherd puppy has a bite problem - also jumping up
by Lisa
(Spokane,Wa)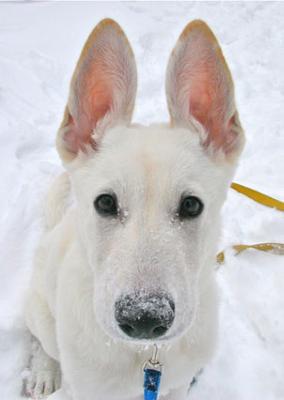 Our 5 mth old Sophie was easy to potty train,sit and down train. I have her most of the day until my husband gets home.


The problem is her nipping and sometimes mouthing or bite. She gets lots of play time before she eats, when my husband is home she gets a walk first thing. She has her own toys but she will turn on us occasionally and nip at us.
We have tried several suggestions but none of them seem to work very well. We also have a problem with her jumping up. We tell her no.
I have even had her on a choke collar which I hate! Any idea what we can do to change her behavior. Or is it us??
Total German Shepherd
: Well, this is fairly typical behavior from a puppy of this age however as her parents you have to set rules as to what is and isn't acceptable. And please don't use a choke collar - especially on a puppy and especially if you haven't been trained in the proper way to use it!
To let this kind of behavior go now would be a big mistake because it might not hurt too much right now but wait until your
German Shepherd puppy
is 2 years old doing the same thing! 5 years old! Etc., etc.
So it boils down to the fact that you and your German Shepherd puppy both need dog training. Your puppy needs to learn what to do and you need to learn how to train the puppy and what to do in different situations.
So I would definitely encourage you to sign you all up for a dog training class. It's great and has many benefits. There are also lots of shows on TV and online aimed at dog training as well. And while these are helpful they're not as good as a actual
dog training
class.
Last but not least, you can order
dog training courses online
that are aimed at helping dog owners learn how to train their dogs - and below is one online course I highly recommend you check out if you decide to go this route. Just click on the banner below to learn more about it (even though it says Potty Training it is about all phases of dog training.
Good luck. Remember it will take some time. Be patient - remember your
German Shepherd puppy
is just a baby even though it might be fairly large. But dog training is what is needed.