German Shepherd puppy has lost toe nails
by Kristi
(Madison, Wi USA)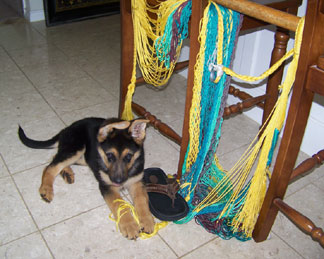 We are looking at a 6 week old puppy whose mom chewed off two of his back toe nails.
Will this affect anything adversely?
Kristi
Total German Shepherd
:
I would definitely suggest you get the puppy checked out by a vet to see what they think. If the vet gives you a clean bill of health or a go ahead then I wouldn't really worry about it so much after that - just keep an eye on it from time to time.
Dogs are very resilient animals and can overcome many different things so the loss of a few nails should not be such a big deal in the overall scheme of things.
But to be safe, get the German Shepherd puppy checked out by the vet first - just to be sure.