German Shepherd Puppy, Hinde's H Kain Vom Benza Haus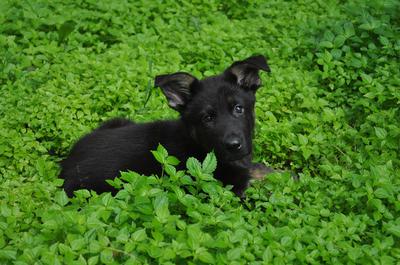 Black German Shepherd Puppy, Kain
We just got a new member to our family. Kain is a Eastern German Shepherd. Kain has a new older sister Maggie who is a Golden Retriever.


The day Kain came home to his new family he has brought nothing but joy and laughter!!! We all just love him to pieces...
Kain's Mom Tanya
Total German Shepherd
:
Hi Tanya,
Thanks so much for sending in the great picture of your German Shepherd Puppy Kain. He is such a cutie - and the picture of him sitting against the green grasses is very stunning. Nicely done.
I hope he gets along well with his new big sister Maggie and the rest of the family too. I am sure that you all love him to death.
I wish you nothing but the best with him in the future. And maybe somewhere down the road you can send us in an update letting us know how he's doing. We always love hearing lots of German Shepherd Puppy stories and I can think of nothing love to look at more that cute German Shepherd Puppy photos!
Thanks again for sharing!