German shepherd Puppy, Luka
by Eva Sharma
(Ahmedabad, India)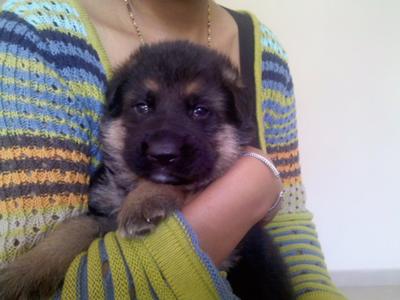 A month old and trying to look serious already!
We were married for little over a year, much in love and happy but we felt we needed a puppy to complete the picture. So we got Luka on 11th December 2011. He was only 25 days old when the breeder sold it to us.


We had no clue that puppies this young aren't supposed to be separated from their mommy. It was only when we got back home after a 600 kms drive that we realised he was too small to drink milk from a bowl. He could barely stand and walk!
So I bottle fed him for a month. Once every 2 hours, like his mommy would. He would make mewling sounds and pumps my hands with his paws, as if hes milking his mommy, poor baby. After that, he was on Royal Canin and continues to this day.
He has grown fast and is now this handsome, strong, active 6 month old GSD. He is a sweetheart and we are happy he is part of our family. Sharing a few pics of Luka,
Total German Shepherd
:
Eva, Thanks so much for sharing your lovely Luka with us. I can't believe anyone would sell a puppy of any breed that early - that is totally irresponsible.
But good for you for doing what you had to do to help Luka grow and mature - please make sure to keep him up on his shots and if at all possible, to socialize him all you can with other dogs since he was taken from his family at such an early age and he missed out on a lot of opportunities to learn from his momma and littermates too on what it is to be a dog.
Continued success with him - he looks like quite a little character! In time he will pay you back for all the time you put into him when he was so small and couldn't help himself. Maybe give him a belly rub for me too!