German Shepherd puppy over playing issue
by Beth
(Belton, Missouri)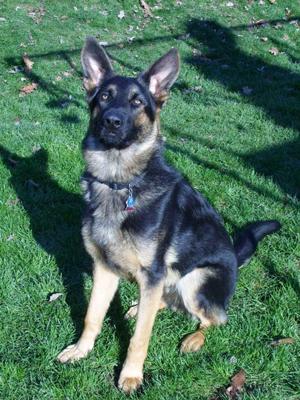 My female german sheperd is about 16 months old, she loves to play constantly with those orange chuck it balls, when outside weather permits we throw and catch, but has to have us inside the house throw it constantly, we own like 6 of them, if she doesnt have one in her mouth or you put it up she barks,
I also give her bones, do not give rawhide ones use the big natural bones, she can go thru a big one in a matter of like an hour, is this normal?
Total German Shepherd
:
It's not uncommon for many GSDs to play until they just about drop - in fact I've had several German Shepherds over the years myself that were "play heads" too and would play until they were absolutely worn out.
And many GSD puppies just have that drive to play, play, play - and it is exactly that drive that makes German Shepherds such fantastic working dogs.
So yes, this behavior is normal and going through those bones in no time flat too. Just keep your German Shepherd puppy active - provide adequate nutrition, and focus that energy into something specific and you'll have a great experience with your GSD.