German Shepherd Smokey Revealing His Softer Side
by Monte Pack
(Canada)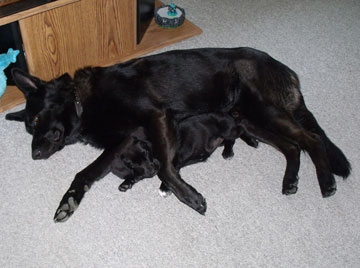 Isn't that the sweetest thing you ever saw?
Here is a picture of our fantastic Smokey. He is so protective of my children and property that I can't describe his value to us.


We started feeling bad when we would leave for work or school for the day because Smoke was home alone every day. We will occasionally baby sit our neighbors doby and terrier and it always put a smile on smokeys face.
So we decided to try and find a companion for my buddy. Here is a picture of Smokey cuddling his new friend Nippy. As you can see they get along pretty good.
Nippy is only 2 ½ months old but she can really stick up for herself. They play tug of war together and wrestle under the coffee table all the time. Smoke seems really happy to have a new friend to hang with every day.
Monte Pack
Total German Shepherd
:
Hey Monte,
What a wonderful picture that is that you've shared with us here of your big guy Smokey and your new addition, Nippy. Fantastic shot! I wish I could see them spooning like that in person.
So who initiates the cuddle in the first place? Or is it just mutual? And how soon after meeting did they start doing that? I have a hundred other questions but I'll stop at just a few so far. ;)
At any rate, continued success with your big fella Smokey - he is turning into one handsome German Shepherd for sure. And that little Nippy is one cutie pie too! And keep the pictures coming in. We love to see them!