German Shepherd Very Sad; Not eating; Master passed away
by Mary M
(Vancouver, BC Canada)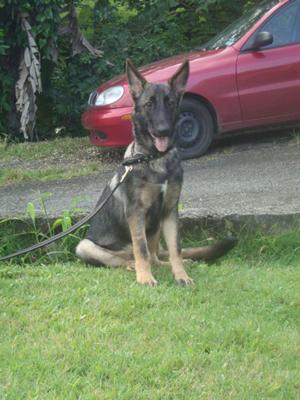 My husband passed away 4 months ago and he was the original master of Sasha (she's 6 1/2 yrs old). He got her when she was 6 weeks old and they were extremely bonded.


I have done an ultra-sound; blood tests; urine test; changed her food to hypo allergenic and will be getting a spleen test. To date we have found no signs of cancer or lesions.
She is lethargic; lost a lot of weight and has no interest in dog kibbles or wet food. I make her turkey or stew beef basically anything she wants to eat. Also, I hand feed her at times. I am doing everything and anything possible to help her.
She played for a bit today with other dogs in the park but she isn't the same dog, playful, energetic. Is she heartbroken? Any advice will be helpful. The vet is also baffled at her mystery illness.
Total German Shepherd
:
I am so, so sorry for your loss. What a terrible thing and I was heartbroken for you when I read it. I truly believe that your assumption is correct. I too believe she is pining for her master that passed.
Yes, German Shepherds are very sensitive dogs despite their big, scary demeanor (as many non GSD owners seem to think of the breed) and if they truly bond with their master many mourn the death of a master for long periods of time - some longer than others.
In fact I have heard of several stories where the dogs guarded the body of a deceased owner even having to be put to sleep (not euthanized, just calmed down) so that the body could be taken away and many other tales of hero GSDs guarding their owners even in death.
And the same goes for mourning - dogs are very social creatures. And GSDs are very intelligent. Combine the 2 traits and, yes, more often than not you will notice serious signs of change occurring in the dog after the passing of a beloved friend. Going off food, drastic changes in behavior, changes such as complete loss of play drive or of anything they once had a real zest for are often very common.
Even physical symptoms such as the ones you've named earlier all seem highly possible to be related to this terrible event. I'm not surprised at all - especially if your vet couldn't find anything really tangible. Just be patient with her - and I imagine that some of these symptoms that you mentioned (physical) will stop in time.
Perhaps if you spend more time with her, if you have the chance, it will give both of you time to grieve - and time to bond too which is something you both need to do. And that doesn't mean anything really out of the ordinary - but doing the "normal" day to day things with her will help - walks, playtime, just hanging out, etc. - keep her in her routine as much as you possibly can and this will also help her in case she worries about any abandonment type issues.
Just let her know that she is loved, maybe sneak in a few extra special treats that she doesn't normally get, play with her as much as she will and I think you'll be on your way to helping her "return" to you.
One thing I would suggest too - don't overlook the ability to check with a animal behaviorist if you feel her needs are deeper and more psychological. If you need additional help in this area I would contact your local vet or trainers in your area for references to behaviorists near you.
It will not be a fast recovery - grief never is - she loved her master and misses him and doesn't understand all that happened - and that will take time for you and your GSD both but as you mentioned, the fact that she is eating a little bit better and seemed a little more interested in her surroundings are both good signs that she's moving in the right direction.
Again, I am so sorry for your loss. I will keep you both in my thoughts.