German Shepherd Walks
by Roger Mccrea
(Kolkata,West Bengal,India)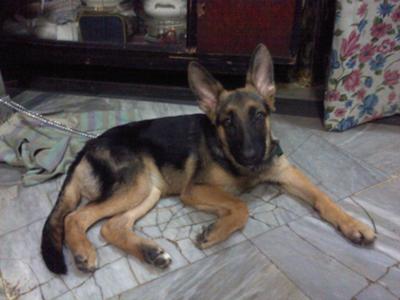 My 3 month old GSD
My Female gsd is now just 3 months old has taken her 3 vaccination out of 4 that she needs to take.I want to take her out for morning walks is that possible,
another thing that i have noticed is that she has not picked up weight she is a bit thin and lanky is it ok do they get bigger and stronger on later stage of growth.
Could you suggest some supplements that will make her more healthy and also taller.
Total German Shepherd
:
It would be just fine for you to take her on walks - especially after having given her most of her vaccines. Plus, it would be a good bonding process for you both - not to mention good exercise. I just wouldn't recommend you going overboard with the distance to start out.
And at her age it is very normal for her to be on the thin side. In fact, it is much better that she be a bit thin versus being too heavy. She will fill out as she grows up.
Especially as she grows up, she will be all filled out around 2 to 3 years old. So don't expect it too soon. She will get about adult height around 1 yr old or so, but will continue to fill out weight wise until she is 2 to 3 years old.
Supplement wise, I would suggest a good Probiotic, fish oil pills, vitamin c and the best dog food that you can afford for a large breed puppy. Good luck with your growing German Shepherd puppy.