German Shepherd, Weg des Kriegers aka Tank
by Pamelia Sparks
(Bristol Tn USA)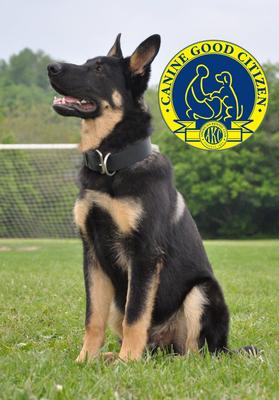 What a handsome, German Shepherd
Tank is a 9 month old, Bi-Colored GSD. He is now about 85# and a lean mean working Machine.


He has been working on his personal protection training with Ultimate Protection K-9 Training Club in Chilhowie Va. He completed his CGC with flying colors.
Tank was born with a deformed tail, it was doubled back and the bone was fused which ultimately had to be docked.. but that does not slow him down..
Pedigree is located here: http://www.pedigreedatabase.com/german_shepherd_dog/dog.html?id=745683
Thank you for looking.
Total German Shepherd
:
What a handsome boy your Tank is - I love his coloration. He looks a lot like my newest GSD, Rodie - they could be brothers!
He sounds like he is well on his way training wise and I wish you a lot of luck with him. Please keep us informed on his progress - that little guy has a long life ahead of him.
Your German Shepherd puppy is handsome and intelligent and a wonderful member of the breed. He will develop into a fine young man and a wonderful German Shepherd adult. Congratulations!