German Shepherds Nadia and Zisso Play in the Puyallup River
by Bev Ritch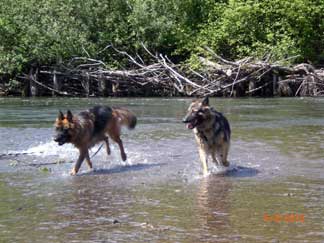 I would like to enter your Photo of the month contest with the attached photo!
The blanket back black and tan on the right is my female, Nadia, and she is 2 years old. (will be 3 in December)
The black and red long coat on the left is my male Zisso, and he is 2 years old (will be 3 in September)
They are playing in the Puyallup River in Washington State-one of our favorite spots!
Thanks!

Total German Shepherd
: Thanks so much for sharing the great shot of your
German Shepherds
playing in the water.
All my
GSDs
love the water too. And it's great exercise too! Thanks again - keep the pictures coming.